PDF
DETAIL PAGE
Franges Anciennes
100 Modeles
A. Crespel, Lille
Lovely description with illustrations of fringes, divided in crocheted fringes, macrame fringes, venice lace fringes, and bobbin lace fringes.
Scans donated by Iva Innocenti, edited by Sytske Wijnsma
F-II001
P
GA04
Crochet
Macrame
Lace
II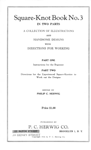 PDF
DETAIL PAGE
Square-Knot Book No. 3, In Two Parts
A Collection of Illustrations and Handsome Designs with Directions for Working
Brooklyn, NY, P.C. Herwig Co., 1926, 32 pgs.
Naval knotting as an art form; macramé. Wonderful simple instructions.
Scans donated by Sharon Kersten, edited by Judith Adele.
B-SK001
H
C205
Knotting
Macrame
SK
PDF
DETAIL PAGE
New Bead Book
Chicago, National Trading Co., 1924
Stunning book of knitted, crocheted, woven and needlework beaded bags, with instructions and charts.
Scans donated by Mary Lou Davis, edited by Judith Adele.
B-MD001
B
B730
Beading
Crochet
Embroidery
Knitting
Knotting
Macrame
Sewing
Weaving
MD
PDF01
PDF02
Knitting and Crochet,
a Guide to the Use of The Needle and The Hook.
Lynn, Mass. J.F. Ingalls, 1886, 144 pgs.
Hundreds of late Victorian knitting, crochet and macramé patterns and instructions, some of them uncommon (such as a quilt worked in afghan stitch in the round, using four hooks), and a knit stocking pattern in rhymed verse.
Scans donated by Hope Wright, edited by Hope Wright.
A-HW007
C
A
Crochet
Knitting
Knotting
Macrame
HW
PDF
DETAIL PAGE
The Home Art Book of Fancy Stitchery
with samples of Drawn Thread Work, Resille Net, Bead-work and Fancy Stitches for Dress Trimmings, Feather Stitching, Hardanger Work, Hedebo Work, Knitting, Macramé Work, Darned Net, Cross-stitch, Ancient Cut-Work, Embroidery on Flannel.
London: The Girl's Own Paper and Woman's Magazine, [1912], 114 pgs.
More description from the cover: "With new ideas for applying crochet to lingerie and napery, ...smocking, ... darned filet crochet, ...Irish crochet". Also teneriffe, Venetian crochet, knit/braided rugs; a fantastic resource.
Scans donated by Enfys, edited by Enfys.
6-EN003
K
6
Beading
Crochet
Embroidery
Filet Crochet
Hardanger
Irish Crochet
Knitting
Knotting
Lace
Macrame
Netting
Point Lace
EN